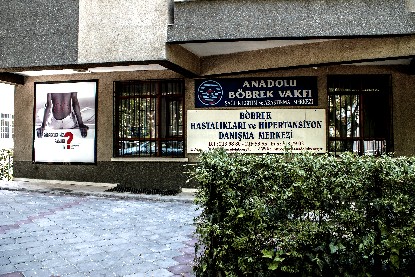 ---
WORLD KIDNEY DAY 2020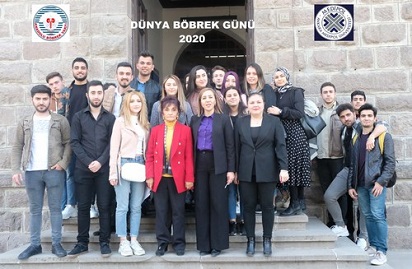 This year's World Kidney Day, which we celebrate the second week of March every year, is "Kidney Health for All". Our meeting this year was held in cooperation with Medipol University. A speech on "Kidney Health for All" was made by Professor Ayla San to Medipol University students. Later, an exhibition titled "Veni vidi amavi (I came, I saw, I liked)", which was composed of Ayla San's photographs, was organized.
---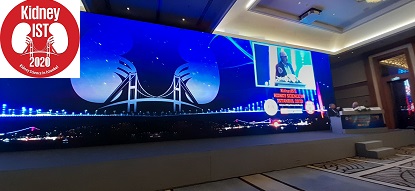 The "KidneyIST: Kidney Science in Istanbul" meeting was held in Istanbul on 5-6 March, 2020, in honor of the 50th anniversary of the founding of the Turkish Nephrology Association. It was held in an extremely beautiful environment, both scientifically and socially.
It is our wish that our Turkish Nephrology Association will achieve many more successes.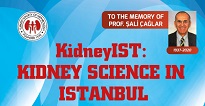 .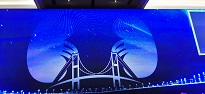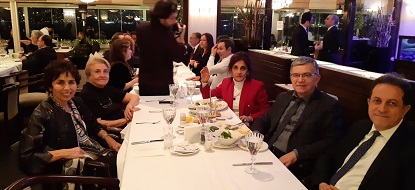 ---

International Nephrology and Urology Congress, 19-20 March,2020, Spain.
Prof. A. San MD is going to participate in the International Congress of Nephrology and Urology to be held in Valencia, Spain between 19-20 March, 2020 as a speaker with the topics "Development of Turkish Nephrology from Past to Present"and "Evaluation of the History of Family Mediterranean Fever (FMF) between 1957-2020.
It was reported that the congress was postponed due to the corona virus in a letter that came on 18.02.2020.
---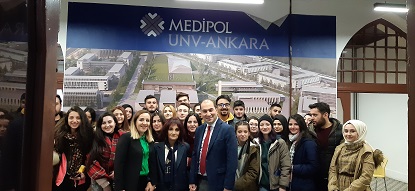 ---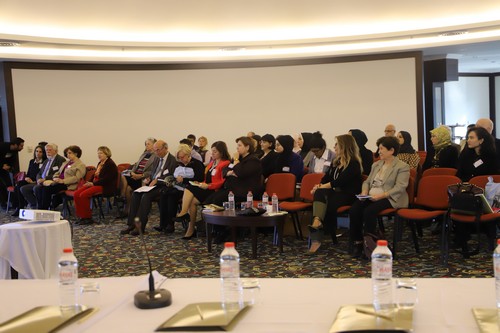 ---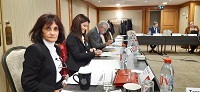 .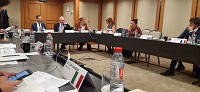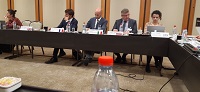 .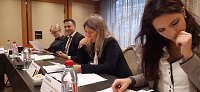 ---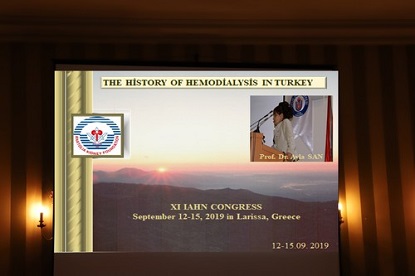 ---
WORLD KIDNEY DAY 2019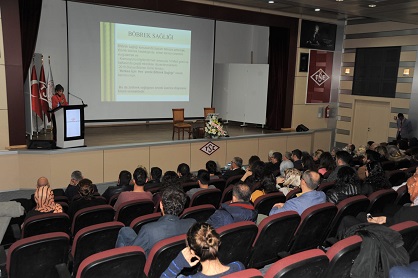 ---
56th ERA-EDTA Congress Was Held Between June 13th-16th 2019 in Budapest, Hungary.

---
IFKF organizedits latest international meeting in 2016. This yeart his meeting washeld in Indiabetween 10-12 December.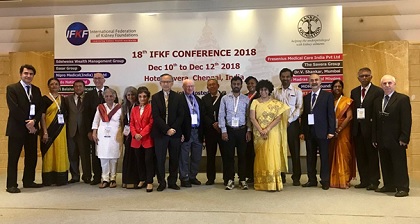 The posters we have presented at IFKF's 18thAnnual Meeting,Chennai, India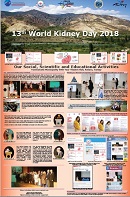 .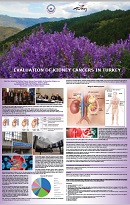 .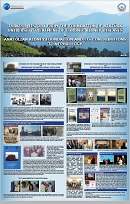 ---
2nd INTERNATIONAL CONGRESS ON THE TURKISH HISTORY OF MEDICINE
(25-29 October 2018, Afyonkarahisar)
Prof. Dr. Ayla SAN attended to this congress with 2 oral presentations:
"Avicenna and Kidneys", "The Birth of Turkish Nephrology"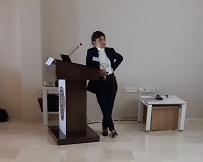 .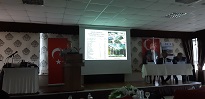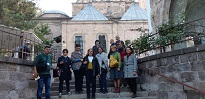 .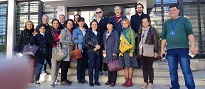 ---
35th NationalCongress of Nephrology, Hypertension, DialysisandTransplantation (3-7 October 2018, Antalya) AnatolianKidney Foundation Special Award;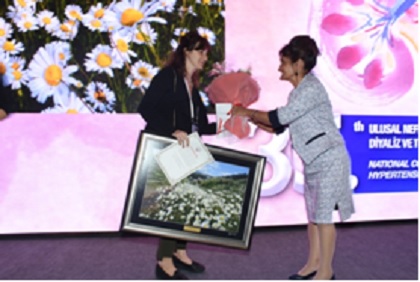 "ChronicAntibodyMediatedRejectionandTreatment in KidneyTransplantRecipients: Single Center Experience, Gizem Kumru, Damla Örs Şendoğan, Acar Tüzüner, Şule Şengül, Kenan Keven1
Ankara University, Faculty of Medicine, Department of Nephrology, Ankara University, Faculty of Medicine, Department of General Surgery."
---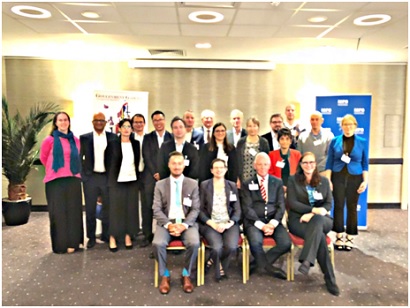 Prof. Ayla SAN MD attended the European Round Table Meeting on Kidney Cancer organized by the International Centrefor Parliamentary Studieson behalf of the Anatolian Kidney Foundation in Brusselson September 26, 2018.
http://www.parlicentre.org/int_events.php
---
Prof. Ayla SAN MD will attend to the 46th Congress of The International Society for The History of Medicine (ISHM) with the speech on "Historical Development of Familial Mediterranean Fever(FMF) and Evaluation of Cases in Turkey Between 1957 and 2018".
(3-7 September 2018, Lisbon)

---

55th ERA—EDTA Congress was held between 24-27 May, 2018 in Copenhagen the capital city of Denmark. Prof. Ayla SAN, MD president of Anatolian Kidney Foundation attended to this congress with 2 oral presentations called "Historical Progress of Urine Examination from Uroscopy to Urinalysis" and "Saffron and Its Effects on Kidneys".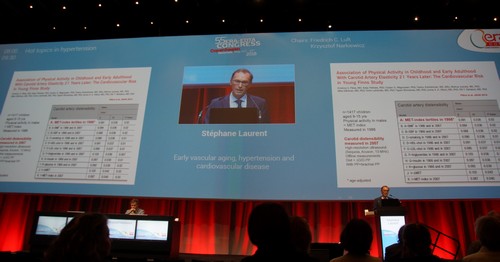 ---
Turkish Hypertension and Renal Diseases Society's 20th National Hypertension and Renal Diseases Congress, May 9-13, 2018, Bafra, Turkish Republic of Northern CyprusAnatolian Kidney Foundation's Best Presentation Award Ceremony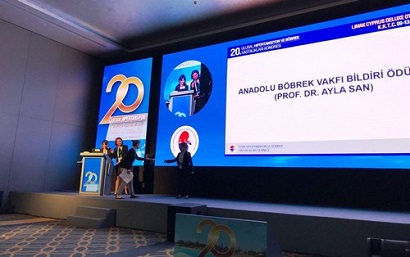 ---
4th Congress of Mediterranean Kidney Society, 20-22 April 2018, Mostar, Bosnia and Herzegovina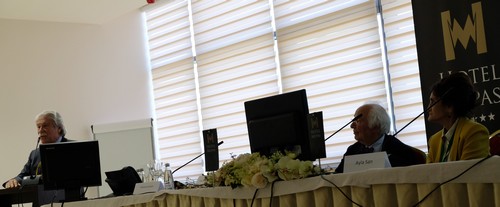 Prof. Ayla San, MD attended to this congress as a chairman, also with a free communication.
---

Click to see the related page >>>
---

http://www.worldkidneyday.org/ >>>
ISN Pioneer Award for the Eastern and Central Europe Region Winner Prof. Ayla San was taken her award by UK ISN Program Chair Prof. John Feehally in the opening ceremony on 4th October in BANTAO Congress (Sarajevo, Bosnia and Herzegovina, October 4th – 8th 2017)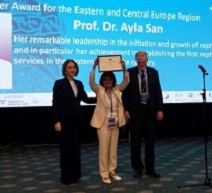 .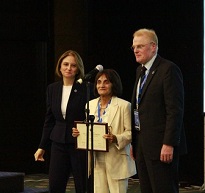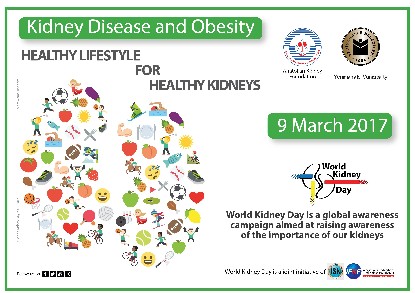 Our activities on World Kidney Day on March 9, 2017 have been completed and interest in the topic "Obesity and Kidney" was greate.
-------
OUR WORLD KIDNEY DAY ACTIVITIES >>>
Our Invitation Card and Brochure for World Kidney Day 2017
---
INTERNATIONAL FEDERATION OF KIDNEY FOUNDATION (IFKF)
17TH ANNUAL MEETING
28-29 OCTOBER 2016, MALTA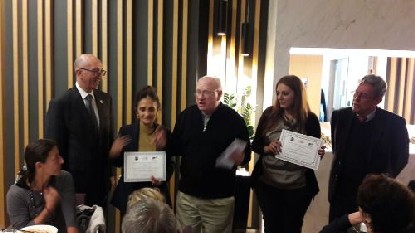 AnatolianKidney Foundation won1st posteraward in thismeeting.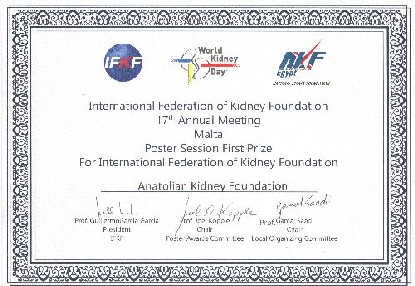 Some images of IFKF Meeting >>>
Our Poster Presentations: [1] - [2] - [3]
---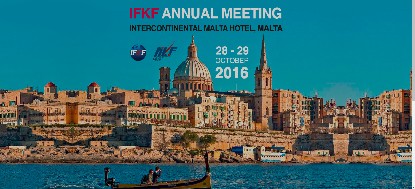 ACTIVITIES IN ISTANBUL (APRIL 2016)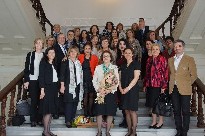 .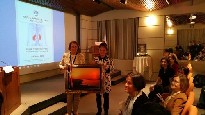 İstanbul University, İstanbul Medical Faculty, Department of Internal Diseases, Farewell ceremony was held due to the retirement of Prof. Sevinç Emre, MD., at Rector Building of İstanbul Univ., April 7, 2016, İstanbul. Prof. A. San, MD.,gave a speech about her friend Prof. Sevinç Emre, MD.
The first training meeting of Pediatric Nephrology Association "Pediatric Nephrology - 2016 Update" washeld in Anatolian Civilization Research Center in Koç Univ., on April 8-9, 2016, İstanbul. A photograph of A. San was presented as a giftto Prof. Sevinç Emre, MD, dueto her retirement in "Sevinç Emre Session".
---