Our Renaliz Newspaper's 57th issue has been published and we started to deliver them. You can find 57th issue's PDF format in Renaliz section
---
(ISN News 34th, August 2010) Our World Kidney Day Activities at Ufuk University and in CEPA Mall took place in International Society of Nephrology's brief bulletin with two photos. This page is following: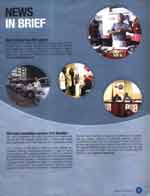 ---
10th IFKF annual international meeting was held from May 17th to May 20th 2009 in İstanbul. The World Kidney Day 2009 Poster which is arranged by Anatolia Kidney Foundation was chosen as World Kidney Day's best poster and our World Kidney Day Meeting's invitation card was exhibited as works in foreign languages. Also our World Kidney Day Poster was exhibited in World Congress of Nephrology in Milano from May 22nd to May 26th 2009 and received appreciation from attenders.
---
1st International Turkish Medical History Congress and 10th National Turkish Medical History Congress was held from 20th to 24th May 2008 in Konya in cooperation of the Institution of Turkish Medical History and Konya Selçuk University. Our Foundation's President Prof. Dr. Ayla San attended this congresses with the presentation of Turkish History of Nephrology which is our foundation publication and published in 2002. This presentation put over...
---
In November 25, 2007 we prepared a kermis and it was very succesfully and crowded..
---
Anatolia Kidney Foundation President Prof.Dr.Ayla SAN joined 24th National Congress of Nephrology, Hypertension, Dialysis and Transplantation, 17 th National Congress of Renal Diseases, Dialysis and Transplantation Nursing on 14-18th November in Antalya. She also gaved that traditonal Anatolia Kidney Foundation present..
---
Anatolia Kidney Foundation arranged 'Intensive Care and Nephrology Symposium' in corporation with Konya Selcuk University Meram Medical Faculty on September 7-9, 2006, in Hotel Rixos, Konya. It was wonderful as scientific and social respects.
---
We celebrated our foundation's 10th years on 3rd October 2005 at Ankara University Medical School
---
History of Nefrology in Turkey 2002 edited by Prof. Dr. Ayla San is published. Turkish History of Nephrology. A Summary is published.
---
Anatolia Kidney Foundation's President Prof. Ayla SAN M.D. attended the 8th Annual Meeting of IFKF (April 16-19, 2007, Curitiba, Brazil) with 3 poster presentations." Her speech and poster presentations had been interested very much by meeting participants.
---
ISN and IFKF decided that a World Kidney Day be established on the second. Thursday in March each year. This year we celebrated WKD on March 8, 2007.
---
The Anatolian Kidney Foundation Day was carried out with a warm atmosphere in Ufuk Universitiy Conference Hall on May 8, 2006. Also everybody was interested in "Invitation to the Regard of Turkish Language" and "My Anatolia" exhibitions.
---
5th International Congress of The Uremic Research and Toxicity combined with 7th Baltic Meeting on Nephrology on May 18-20 in Gdansk- Sopot, Poland. The meeting was carried out in a warm atmosphere as scientific aspect.